Horseriding in Plana
The Horse base "PlanaKon" (that means "Plana mountain Horse") is situated in the heart of Plana mountain – the valley of Planstitsa river, nearby to the so called Space Station. It is about 35-40 km (22-25 ml) from the center of Sofia city – the capital of Bulgaria.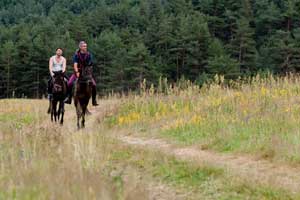 In the beginning the geographers assumed Plana as a part of Vitosha mountain. The first scientists who classified orographically the mountain as a separate are Skorpil Brothers. In their work "Geography of Bulgaria" they gave the name after its main ridge – Plana. The mountain is situated between Vitosha mountain, Iskar river, Rila Mountain and Samokov valley in the west part of Bulgaria. Some authors say that the name Plana means high but almost level forest-land.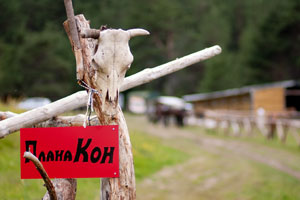 The landscape of Plana is fascinating – all is covered by mixed forests and glades, showered with flowers and fresh grass. In the past the forests were mostly of century old beeches but they were lumbered with the time and now only separate giant trees are survived. All is covered by pines, white pines and birches. The highest peak is "Manastiriste" (Monastery Place) – 1338 m, but there are many others uplands about 1200 m. Plana is very near to Sofia, but its mild relief, numerous forests, nestling lawns and meadows, as well as the lack of any industry make a sensation of remote, godforsaken and virgin forests and mountain. The sceneries to Vitosha and Rila mountains, to Iskar lake and Lozen mountain hold the breath; there are approaches to town of Samokov, Rila and Verila mountain, Iskar lake, Vitosha mountain, Belchin Baths SPA etc. There are no industry and trade objects, you will meet very few people instead of many woods and glades, roes and red deers, rabbits, foxes, hedgehogs, wild boars, birds…
Plana can be walked around or traversed within 2 or 3 days by riding horse or mountain bike. Its beauty and tenderness will lay indelible impressions in the hard of every lover of the nature and adventures.